How Do I Become an Affiliate?
If you already have a great site or blog, you're on the right track! The move from blogger/website owner to affiliate is more of a step rather than the leap it may seem like now. To become an affiliate, you'll just need to find the stores, products, and deals that match your blog or site.
Let's say your specialty is fashion. You write a blog post about trends in bathing suit cover-ups for the summer season – you write it just like you normally would. But, before you hit the "publish" button, you do a little research. You look to see if any of the stores that carry the cover-ups you've mentioned have affiliate programs.
For example, you may feature a cover-up that's available at Macy's. Instead of telling your readers, they can get the item at https://macys.com , you'll apply to the Macy's affiliate program on the Linkshare Affiliate Network. Once you're approved, you'll receive a link. It'll be long and have a bunch of weird characters in it, but it will tell Macy's that you (yes YOU!) sent the people to their site who bought that cover-up after reading your blog post.
Since they know it was you – and they want you to keep sending them more buying customers – Macy's will give you a commission on the purchases that your readers make after seeing your post.
---
How Can FMTC Help Me Become an Affiliate?
Imagine that instead of searching all over to find out if Macy's has an affiliate program – you just popped open one nice little tool and typed in "Macy's".
And... imagine if you found out that not only do they have an affiliate program, but they have 367 deals going right now. And… imagine if two of those deals were on Women's swimwear.
With just a few clicks, you grab your link to Macy's 25% off swimwear deal and insert that instead of the plain link to their homepage.
Now, your blog post has gone from offering fashion advice to being a personal shopper, showing your readers where to get the trendy items all the way to helping them save with a great deal on the items. And you just had to open one tool and type in "Macy's".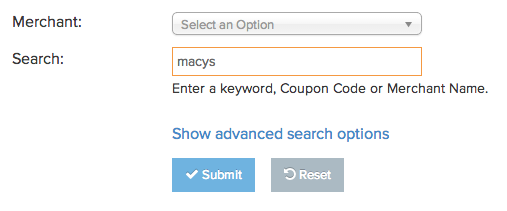 ---
That is What We Do
With our Deal Bank (that's where the picture above is nabbed from), you can search through 10,000+ stores. You can find out if there are affiliate programs for the stores you're already mentioning in your posts – and you can take it a step further and share information about deals happening at those stores.
---
We Do the Heavy Lifting
We do all of the tedious work of collecting the deals, verifying that they work, providing the affiliate links that are tracked back to you, and putting it all together into a nice, neat tool for you.
All you have to do is search, find the deals you want to share, copy your link and paste it into your blog post or website.
---
Ta-Da! You're Now an Affiliate
Your awesome content is not only providing value to your readers/visitors (and, now even more value because you're helping them save!) but, it's also providing value back to you in commissions each time they act on your recommendations and buy from the stores you've mentioned.
---
Let's Get Started
Get started today and access the Deal Bank with the Publisher Toolkit Subscription. Learn more and sign up here!
---